Interview de SHAHRUKH KHAN Part1 :
'As Long As India Makes Films, People Will Watch Shah Rukh Khan'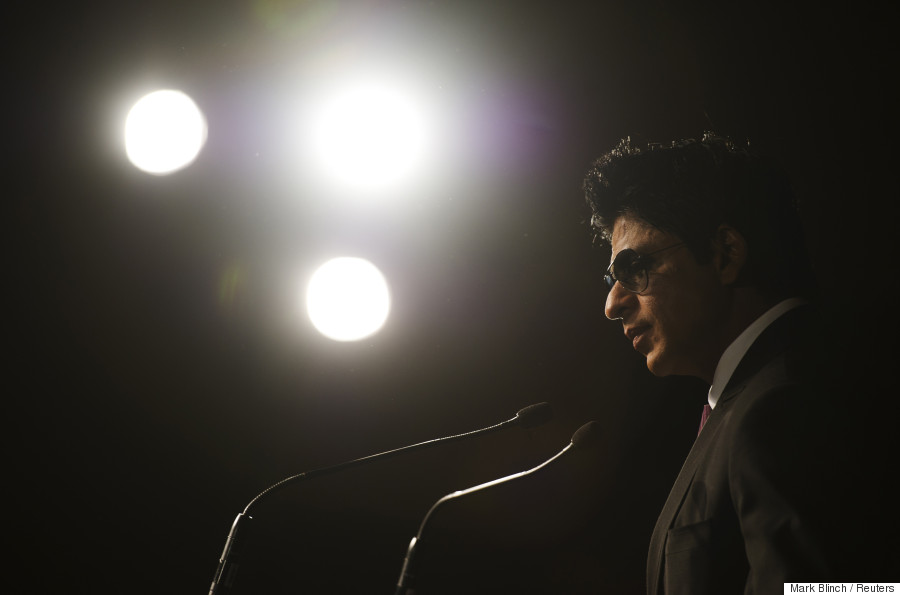 L'entretien en face à face avec le Schah Rukh Khan est hypnotique. Si vous ne prêtez pas attention, il saura, et vous ne vous trouverez presque jamais dans une conversation avec lui où votre attention déviera. Dans une industrie encombrée avec des acteurs distribuant tristement les citations génériques, Khan maîtrise l'art de faire chaque interaction unique.

Avec lui, l'expérience est si personnalisée (il s'assure de continuer à répéter votre nom à intervalles réguliers), que vous pensez avoir réussi à capturer l'homme comme personne auparavant, extrait quelque chose de si profond qu'il va remuer un courant d'émotions chez le lecteur en offrant un aperçu philosophique dans l'espace méditatif de la superstar.
Et c'est là où son talent se trouve vraiment . Il peut citer des vers du Bhagwad Gita et sauter ensuite à quelqu'un aussi enlevé de la mythologie hindoue comme Tim Cook d'Apple et pourtant son analogie fera le sens complet.

Quand je le rencontre à son bungalow de Mumbai, Mannat, la superstar de 50 ans, qui a récemment complété 24 ans dans l'industrie cinématographique - son film de début Deewana sorti le 25 juin 1992 - il semble qu'il ait eu une nuit difficile et qu'il se soit levé très tôt. Il est paré négligemment, dans des blue-jeans bleus et un tee-shirt bleu marine. La fumée couvre son visage comme il est assis dans sa bibliothèque vaguement allumée, un espace étendu avec des titres s'étendant de Bill Bryson et Haruki Murakami à Paulo Coelho et Woody Allen; à Khaled Hosseini et Gabriel Garc í Un Márquez.

C'est le début de soirée et le ciel est surtout couvert avec un soleil très morne dissolvant au loin tranquillement en mer derrière. Tandis qu'il apparaît légèrement faible, une fois qu'il commence à parler - la confiance de Niveau d'atout sort (la seule chose qu'ils peuvent avoir dans commun), les vapeurs d'eau des tasses de thé arrivent et notre entretien commence.

Vous avez complété 24 ans de carrière de films hindi. Votre carrière a vu des sommets donnant le vertige et ensuite il y a eu quelques abaissements. Êtes-vous complètement satisfaits de la façon dont les choses ont pris forme?

Je ne suis pas stupide d'être heureux. J'ai travaillé 25 ans de ma vie faisant des films, ce qui signifie que 50 pour cent de ma vie a été consacrée à faire du cinéma. Selon le taux de mortalité habituel, je suis 3/4e là déjà.

Évidemment les raisons de faire le changement de films. Quand vous êtes plus jeunes, vous essayez de joindre les deux bouts. Au début de ma carrière, j'ai été conduit par des désirs matérialistes. J'ai juste voulu acheter une maison. Peut-être une avec un jardin parce que, eh bien, j'ai voulu me promener avec mes enfants dans un jardin.

La raison est maintenant différente. À ce point maintenant, je veux juste faire des films. Beaucoup de choses changent quand vous continuez à le faire pendant très longtemps. Deux choses arrivent: vous perdez la capacité d'étonner le public et la capacité d'échouer est emportée de vous.

Le public s'attend à ce que vous réussissiez tout le temps. Quand Sachin Tendulkar fait des scores de 200 buts, il nous convainc de sa grandeur. Mais en même temps, ce qu'il y a c'est qu'il fait des scores ordinaires de 100 buts . Faire 100 courses n'est pas grande désormais alors.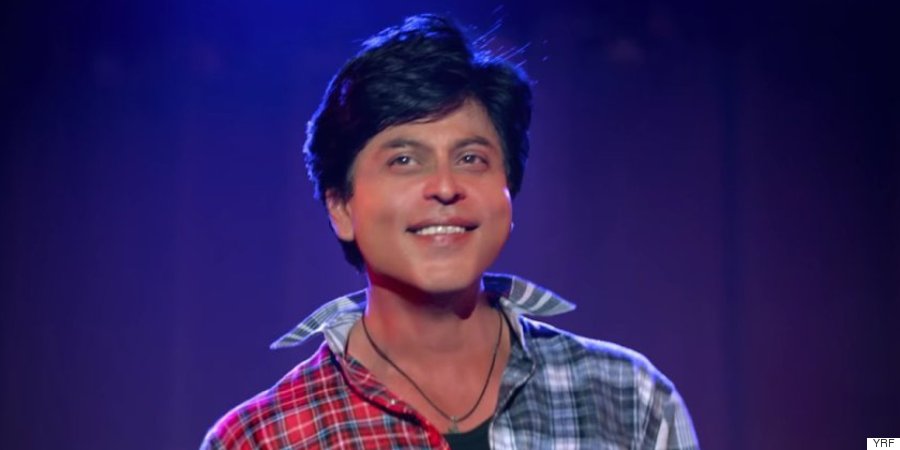 Vous étiez très optimistes du film "Fan", mais il a échoué commercialement. Comment l'avez-vous traité?

Ce s'est senti terrible. Entre Adi (Aditya Chopra, le producteur), Maneesh (Maneesh Sharma, le directeur) et moi, nous savions qu'il ne ferait pas d'argent; nous ne sommes pas stupides. Le film n'avait pas d'héroïne, n'avait pas de chansons. De plus, nous l'avons sorti sur un week-end non-festif. Mais le Fan est toujours le plus proche de mon coeur. Cela, je pense que nous avons fait une erreur fondamentale avec lui.
L'erreur fondamentale étant ?

Nous avons réduit le type (Gaurav Chandna) la passion pour son icône (l'Aryen Khanna) en demandant une très petite chose en échange de la destruction de sa vie. Il lui a demandé 'un désolé'; il devrait lui avoir demandé sa vie. Il devrait avoir dit, "Vous avez tué le fan en moi, je veux tuer la star en vous." 'Désolé' n'était pas assez fort pour baser le film entier sur comment le personnage de Gaurav a été détruit. Ou peut-être le film n'était pas juste assez bon. C'est devenu sans but. Et il a été rejeté.

Même s'il n'a pas incendié le guichet, Fan est toujours un film plus honoré que certaines de vos autres œuvres récentes. La perception que Shah Rukh Khan a, est celle d'une superstar pleine d'esprit, aiguisée, cultivée, intelligente - beaucoup de ces choses ne peuvent pas être dites de beaucoup de vos égaux. C'est pourquoi beaucoup de monde est embarrassé quand ils voient que vous faites des films comme Dilwale (2015) et Happy New Year (2014). Vous ne donnez pas l'impression de quelqu'un qui aimerait voir ces films, sans parler de les produire.

Je dirais que j'ai agi mieux dans Dilwale que j'ai agi dans le Fan. Et vous avez raison. Je ne suis pas le type qui supporte et dit des lignes comme 'Hum shareef kya hue, poori duniya hi badmaash ho gai' . Ce n'est pas mon monde. Pour moi, il faut plus de persuasion pour danser dans les rues avec 100 figurants que s'assoir en tant que fan et dire 'Kachche waale fan toh door se hi karte hain'. C'est plus moi. C'est mon espace.

Mais je ne peux pas faire des films seulement pour mon esprit. Je dois le faire pour les gens qui regardent.

Pour moi, Dilwale est un film commercial voyant, flagrant, coloré. Et mon problème est que j'aime tous les films. Est-ce mon genre de cinéma? ? Non. je voudrais quelque chose de beaucoup plus subtil. Je regarde des spectacles et cinéma internationaux auxquels je me connecte plus facilement. Mais je veux toujours le faire parce qu'il est stimulant de vous mettre dans un espace qui n'est pas le vôtre et en retirer du succès.

Quel défi me reste t-il autrement ? Continuez de grandes actions après Chak de ! L'Inde (2007) ? Je peux le faire. Mais puis-je faire un genre que je n'ai pas ? Je suis curieux pour découvrir.

But don't you realise it during the process that you have found yourself in the middle of something that isn't of great artistic value? And are you not worried about how people will respond?

I cannot be cynical about how people will respond. I have done trashy films, I have done good films and I have done some bad ones. There is a huge acceptance for what I have done.

As an actor, choosing the film that I want to do is the freedom that I should have. When you sit with a story, sometimes you just want to do it. Like I mentioned, sometimes I realise it's not my world, but I get molded in that space only to see if I can pull it off. Sometimes I fail; other times I succeed. The success doesn't make me want to do the same thing again. Or the failure doesn't want me to not do it ever again. Instead, it makes me want to do it all over again. Because that part has to be done. I can't get it wrong.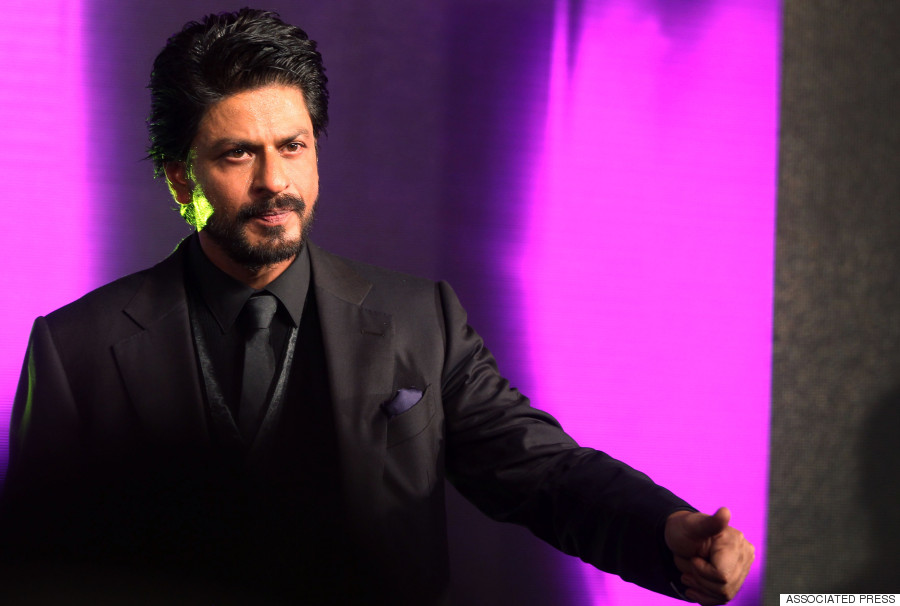 While you pin it down to your creative freedom as an artist, one can also read it as you not taking ownership of making bad films whenever you falter.
No, it's not that. I love all films. I remember watching this film with a very close friend of mine. After two trials, everyone knew the film will tank. I told him I loved the film. He told me, 'Kyun aise bol raha hai yaar mujhe khush karne ke liye (why are you saying this just to please me)' but I had genuinely loved it. I'm a film lover. And the biggest problem in life is if you love something, you are blind.

I can sit down here and talk about the worst film of the world and the best film of the world with the same passion. Does that make me stupid? No. It's just that I try to see the beauty in everything.

l'll tell you a little story. It's from the Bhagavad Gita, actually. It's about Arjuna and Krishna, when they both were walking down the road and there was a dead dog on it. So Krishna asked, what do you see? Arjun said it is such an ugly sight! The entire flesh is rotting. Krishna said, 'Don't you see the teeth? They shine like pearls. Do you see how beautiful they are?'
I only see the teeth. And I am not philosophising.

Do you then also feel that since you love all kind of films, you end up taking some bad decisions and associate yourself with films that you may not be proud of?

I am indecisive at times. And I have been wrong about my own choices.

Karan Arjun (1995) is one of the biggest examples. It's again one of those movies which is not my world, with its kuttey kaminey fight. I could just not understand the movie and Rakesh ji (Rakesh Roshan) kept assuring me that it will work. When I went to see the film with distributors, there was not a moment during the entire film when people were not clapping or crying. It's one of my most successful films after DDLJ. And that is when I realised that I don't know how a movie will turn out.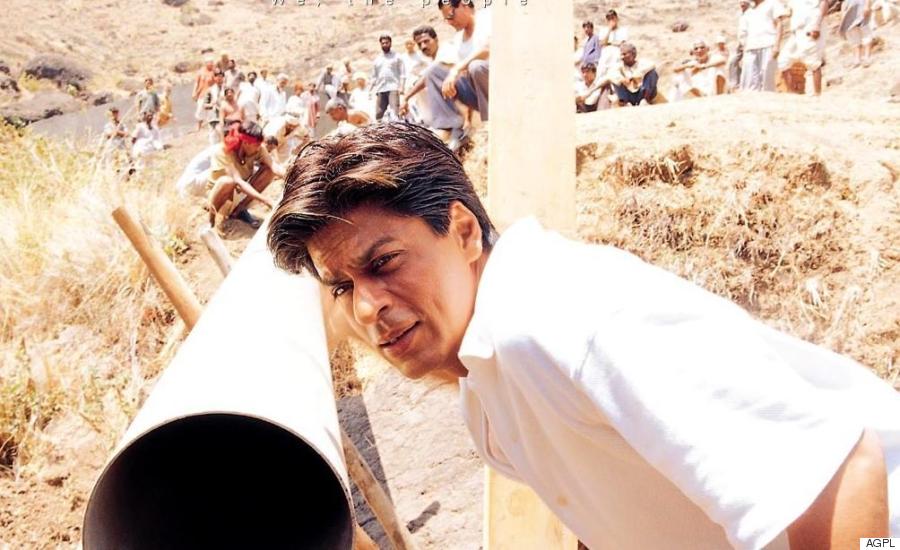 For that matter, I never thought Swades (2004) would be a great film. I wanted to do Jodhaa Akbar (2008) with Ashutosh Gowariker instead. I told him that Swades is a nice film but it will tank. But he was confident. When I asked him why he wants to do the film, he told me that it was because his father wanted him to make a film like that. And that was what convinced me. Otherwise, I didn't see much commercial value in Swades. We did because it gave Ashu an opportunity to make his father proud.
But perhaps what Ashutosh observed was the fact that certain films suit your sensibilities more than others. That doesn't mean you are incapable of doing the over-the-top mainstream fare.
Perhaps. Once this person called me up and told me that he felt I was interesting as an actor because I was ugly. I told him to fuck off. Don't cast me because I am ugly. Cast me because I am talented. Cast me because I can play ugly or handsome when I want. I am an actor. Wherever my arms can reach out, wherever my breath can reach out, that is my space. You can't take that away from me.

I can be a part of Mani Ratnam's world. I can sit with fight masters and talk their language. I can sit with the head of states of the world's biggest countries and chat with them over a formal dinner. I can sit down with Mr. Tim Cook and talk for 2 hours. And I can sit with AbRam's nanny and really enjoy myself. I can become who you are. And films are like that.

So you dare not tell me that something is not my space. No director, writer, storyteller or filmmaker can tell me, I would love you in this film, this is not your space.

I won't do the film if you think it is not my space. But you got bereft of an actor who is versatile. I can do a Kabhi Haan Kabhi Naa (1994), I can do a Chak De, I can do a Ra.One (2011), I can do a Chennai Express (2013), I can do Asoka (2002), I can do Swades, I can do Yes Boss (1997), I can do a Baazigar (1993), I can do a Fan, and I don't even want to count my biggest hits in the history of Indian cinema -- Kuch Kuch Hota Hai (1998), DDLJ, and Kabhi Khushi Kabhie Gham (2003).

I am Shah Rukh Khan and I can do everything.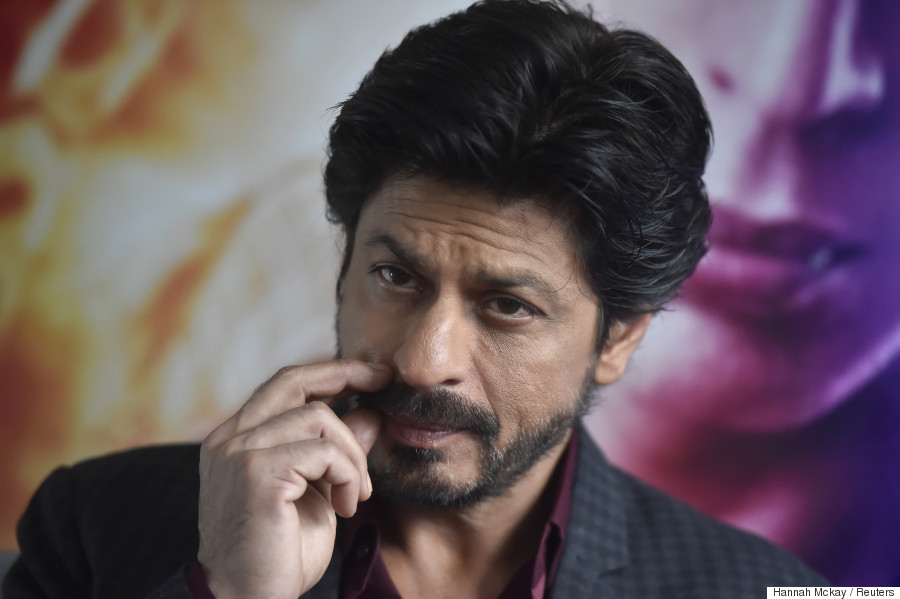 Doing everything in Shah Rukh Khan's world also includes dancing at weddings. While star performances at weddings are a common fixture now, it was practically unheard of in the '90s when you started it. I believe you even faced flak for it initially.

See, I believe in the dignity of labor. Whatever job you do, it is dignified. And if anyone disagrees with me, I don't even understand it. I do it with a lot of effort, with all the right means. So if people say I am selling myself for it, I cannot even see it. Whether it is dancing at a show, hosting a program, doing a TV show or Fan.

I do it with the same dignity like that of the lady who cleans my house. I thank her 20 times. I never look down upon her. In fact, I have always told people that the most respect I have is for my chauffeur. I come back home at 6 and sleep. He is called back at 12 and he is ready to take me wherever! I have a security guard 24x7 and I don't know when he eats or sleeps.
But would you say your willingness to dance at weddings or even starting the trend of doing endorsements stemmed from your materialistic desires like you mentioned earlier? Or was it the preceding poverty that made acquiring wealth an important catalyst for your ambition?
Young people should remember — by following your dream, you may not be able to settle the people you are responsible for. I come from a very poor background. I have seen my parents eating food with daal that had more water than substance. They would make a joke about it — "Today let's have watered-down daal". Or my mother would say, "No, I am not hungry today, I had food outside." We were not stupid to know that she hadn't eaten. We knew our constraints. We were a very educated family, very soft-spoken, secular and happy and nuclear. But we were poor. And I did not like it. I wanted that to change that very badly although my school was beautiful. We were never humiliated for who we were.

I didn't have shoes for school because my parents couldn't afford a pair. I was aware of this, so I did not pester them either. My father died because we did not give him enough expensive injections that could beat his illness. So my mother told me, you have got to be a little practical. And that changed me.

Now I say this to everyone: don't be a philosopher or a teacher without being rich. Money is extremely important — earn it when you can.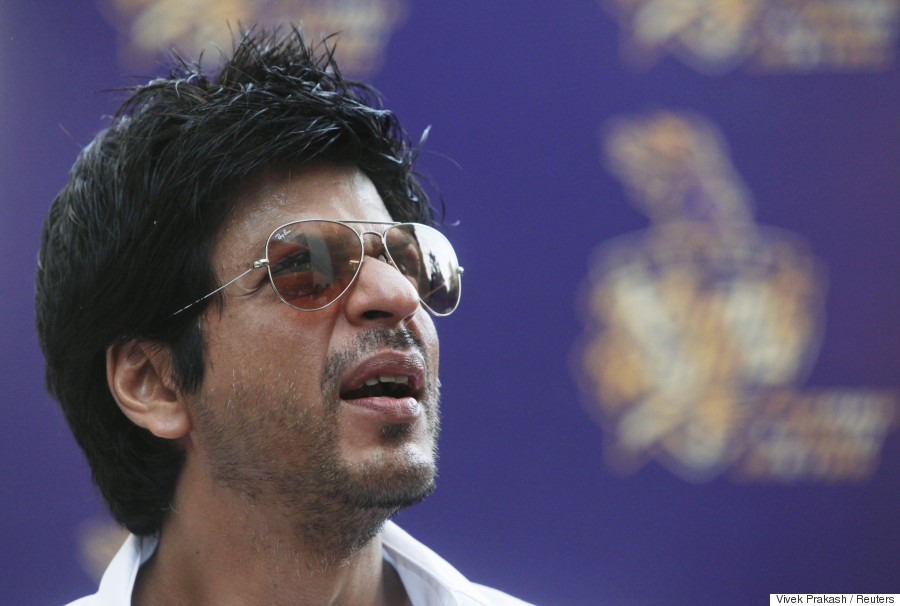 I was the first actor to start doing ads. My first commercial was for Tata Tea. I think only Dimple Kapadia and Hema Malini used to do them for Seema lights and bulbs and that too out of friendship with some people.
Everyone was like, 'Are you mad? Why are you spreading yourself thin?'

Yet I went ahead.

Today, things are much nicer. I have many rooms in this house, some of which I myself haven't been to. I have a nice garden where I spend a lot of time with my three kids.
All of this did not make me compromise with my core essence, which is doing films.
Yes, I do bad ones. I do good ones. I do some very dissatisfying ones and some satisfying ones. And regardless of what people think, I don't charge money for acting in films.

Is that a fact?

Of course. I won't say it otherwise and you are free to cross-check this. I tell all my producers, pay me the money if you can. And if they have lost money, then I don't take it. This is from Day 1. And I am not saying it to be pompous. I am the king! Kings don't take money, they give. But where does a king earn from? He earns from every opportunity that he gets.

Ask anybody around the world: how does Shah Rukh Khan do business? They will say he never talks money. If he likes the job he will do it. And I have been kind enough to have big businesses. My logic of business is that I like it even if it breaks even. Like my IPL team, Kolkata Knight Riders is in profits for the first time in years. We're the only money-making company.
It isn't a lot. Very little. Something that I can probably make by just showing up at a wedding.

My message to the youngsters really is that if there is a side business that helps you get the basic necessities of life, then you can have the luxury of art by your side.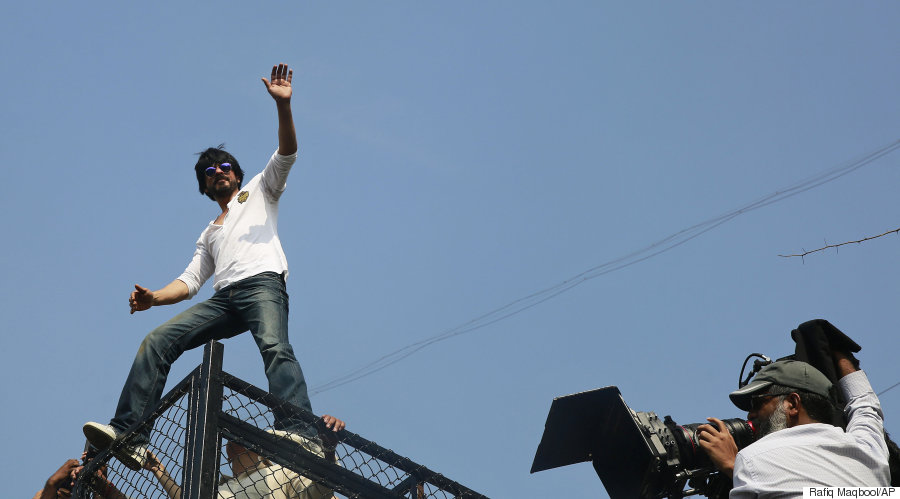 Do you fear a day when you'll be standing on the balcony of Mannat and there won't be people waiting outside to catch a glimpse of you?
Yes. But — and there's a big but — that would be a day when India won't be making films anymore. That's the only way this could happen. Till we make films, there'll be people out there waiting to watch me.
Isn't that something most people, who sit in the proverbial ivory tower, would like to believe?
Perhaps. But not me. Though I am aware that people think that about me. People think I am delusional and that I live in a bubble. My friends tell me I am out of touch with reality. And that's perhaps true, yaar. I drive a hot Ferrari; I live in a palatial bungalow. My only interaction with real people is with people on a movie — a place for fiction. They wave at me and ask for autographs. I oblige sometimes, sometimes I don't. And then I come home and sleep. But you know what? I can feel all those people. When a film does well, there are 700, when it doesn't there are lesser. And it's been so many years. They are still out there. That's a reality, not a delusion.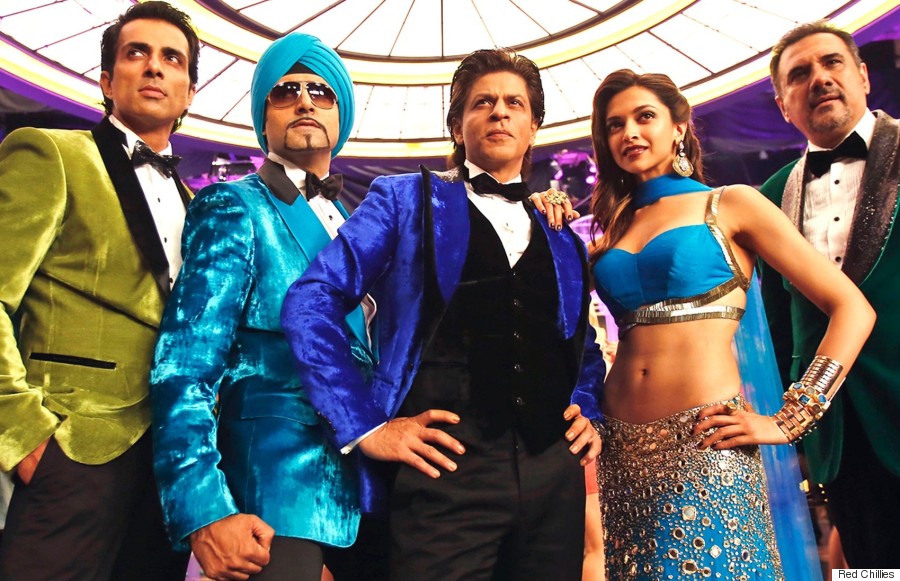 Doesn't that make you feel responsible for providing them better entertainment, something of value and not just escapist fluff stuff?
Sure it does. And as the years have gone by, I have been working harder than ever before. I have been consistently honing my craft, if not the art. I write more, I read more. I try to do something different, even if it's within the same setting. There must be something different about Raj, Rahul, Aryan that people like, right? Are they fools to like the same thing over and over again? They're smart enough to see the nuance and appreciate that. My critics complain that I do only love stories. You can't generically dismiss me off as a lover boy. If mothers like me as an ideal son and women want to marry me, it is because they see the subtleties of Shah Rukh Khan, not just the caricature who has his arms widespread.
But to a large extent, you have caricaturised yourself. You created the outstretched-arms, lover-boy image and milked it to the fullest.
Yes, and that's because I am quite a self-aware actor in the sense that I know what my audience wants from me. And I will give it to them because it makes them terribly happy. I also see it as a joke. if you remember I made this caricature as part of an ongoing gag in Main Hoon Na (2004), when Sushmita Sen's character comes.

It was a joke created by me, on me. I am perhaps the most self-deprecating star in the world. And that's because I'm good. You can't be self-deprecating if you aren't good at all. And I'm not being arrogant, I am being honest. I'm good enough to be humble.

I joke that I have only 5 expressions because I know I have 50. I don't have to scream my lungs out to prove how good I am. I am not even the star who retweets his praises, those tweets that go, OMG! We love you! You're great. I have a job which I do well it's my only goddamn job. If I didn't do that well, I failed.
Interview de SHAHRUKH KHAN Part 2:
'Every Actress Works 3 Times Harder, Gets Paid 10 Times Lesser'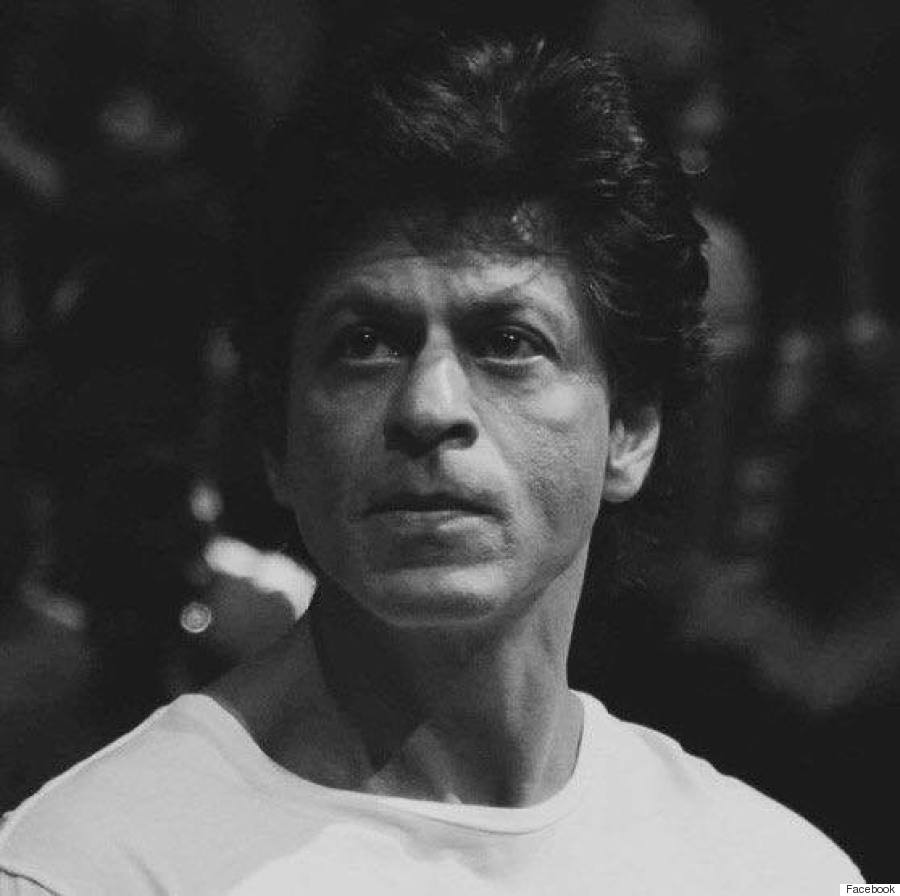 This is part two of excerpts from a conversation with Khan. You can read part one here.
You're not the one to back out of competition — you've always faced it head-on. How did you arrive at the decision of pushing your next film Raees, which was supposed to clash with Sultan [starring Salman Khan], to next year?

We're all friends: Adi [Aditya Chopra, who heads Yash Raj Films], Salman, and me. There are only 3500 screens and that's not enough for two big films. We don't want any games from the backdoors; things are pretty transparent. I just finished a film for YRF. We are hugging and kissing each other and then I can't just go and sneakily book a theatre in Meerut for my film. Ye nahi ho paata (I can't do that). It becomes very awkward for me.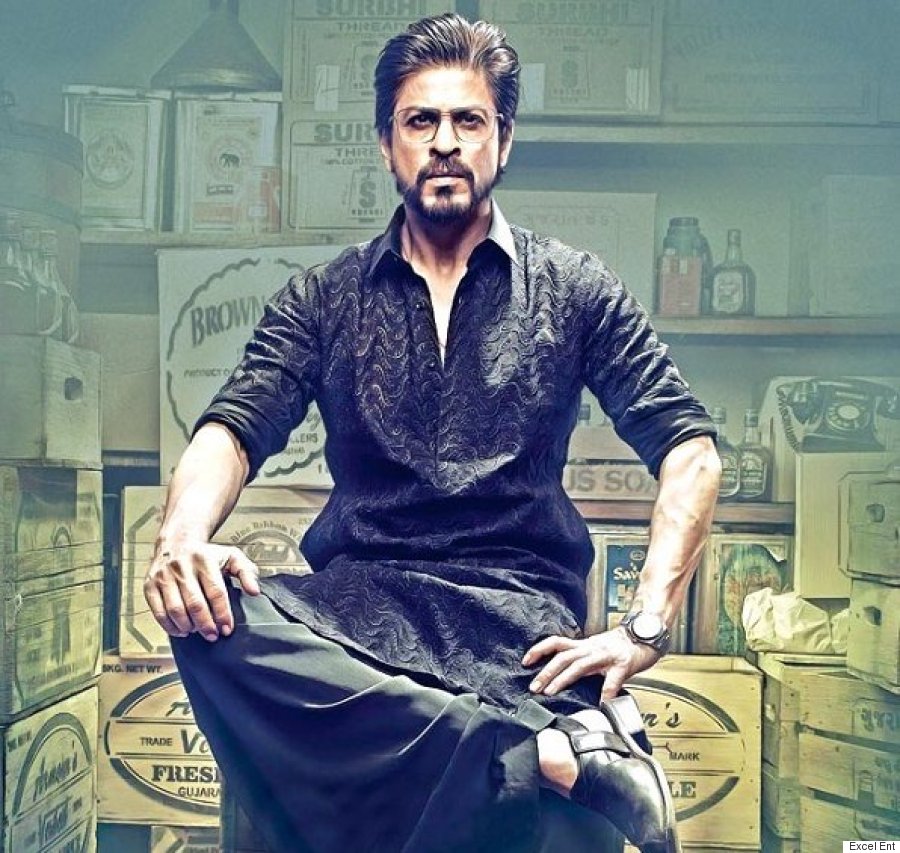 Is this because of how Dilwale fared against Bajirao Mastani last Christmas, when they released on the same day?

That was different — it was a competitive production house. I spoke to them 10 times to get the release date shifted. I spoke to Sanjay Leela Bhansali 10 times about the clash. I flew to Eros' Los Angeles office to get things sorted. But their decision was taken. I then asked Rohit Shetty to shift our dates, but he was firm in his decision. We were always flexible but they assumed they had 'announced' it first. An announcement means nothing, yaar. You release a film when you want to. I asked them they can come a week earlier… whatever they wanted. I tried as hard as I possibly could. Then something strange happened. One of them told me that "Pandit-ji ne date fix ki hai (pandit-ji has decided a date for us)." Now, I didn't really want to go to the point where I was fighting with a pandit [in this case, an astrologer] for a release date. The whole argument had reached a level where there was no logical conversation. It was faith over rationality. It reached a place where we couldn't go through one chat without demeaning each other's films. The end result was just unfortunate — we saved Dilwale with the skin of our teeth, thanks to our international business.
How do you see yourself as part of the times that you're living in?

When you're an actor, you don't think about the times as a separate entity. You are the times. You make the times. I get fascinated when I see actors say, "The audience has gotten mature. You can do all kinds of stuff. There's mainstream, there's indie, oh wow" What the hell, man. Was the audience stupid before? No, we were. The audience always knew. And they know not because they think, they know because they feel. And a feeling is always a billion times more powerful than a thought. A thought in itself is germinated from a feeling.
But do you not fear the times we live in? There's a clampdown on freedom of expression and some of our most important institutes — whether it is FTII, CBFC, or more recently the NIFT — are increasingly being taken over by conservative elements. As a producer, censorship of films directly affects you. Why aren't you out there protesting?
I have stopped commenting on these issues and that, I admit, is unfortunate.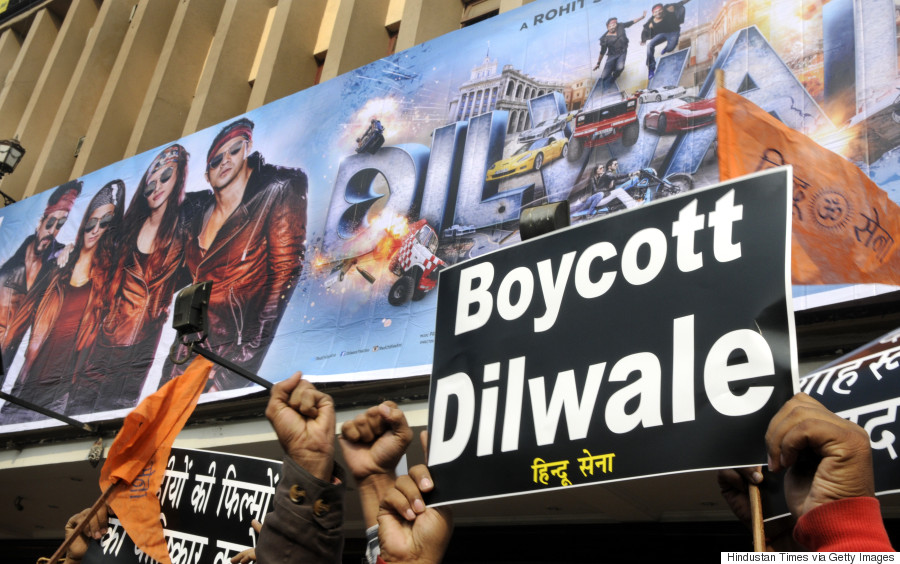 Activists of Hindu Sena hold a protest against the screening of the Shah Rukh Khan starrer Dilwale at Barakhamba Road on December 18, 2015 in New Delhi, India. Shah Rukh had earlier said that religious intolerance and not being secular are the worst kind of crimes that you can commit as a patriot.
This is precisely the kind of censorship — censorship of thought — that I am talking about, which seems to be happening all around us.
Censorship has been a problem for a while. As a producer, I have gone through some issues myself though not too many as I have never made un-familial films. Different committees appointed by different governments will have different interpretations.
See, having a different interpretation of a rule is alright, but when there is a misinterpretation, then it's time for the rule to change. In the case of Udta Punjab, Pahlaj-ji and team went according to one interpretation of the rulebook and, maybe, you cannot question them on that. The rulebook though is something you can question and work towards changing. The rulebook should be so well-written, so clearly written, so specifically written that whichever government is in power, it shouldn't have any room for misinterpretation.
Also, the industry must remember that by having Twitter wars and ticker fights, you're devaluing your own fight. The fight is not with one head of an institution, but with the rules of the said institution. The head may be asked to leave and a new one appointed, but the rules are still going to be the same, right?
Yes, but a progressive thinker is likely to have a more liberal approach towards art, something that need not be bound by the shackles of morality.

Maybe. But you must understand that we live in a country which has places and people that get enticed too easily. Living in a city, we may not understand it. If deleting a few things doesn't make a huge difference to your film then it's okay if having it will cause a problem. I had the same problem with my film Billu (2009), which was originally called Billu Barber. In Australia, the title of barber is as prestigious as being a professor but here I met people who felt it was derogatory. They said it embarrasses us. I said I'll take it off. It cost me a lot of money, it hurt me also. But I did it, despite no legal compulsion. The film didn't work anyway. So my point is if you sit with people and explain them your point of view, it's easier to understand than coming across arbitrary and autocratic, which just pisses people off.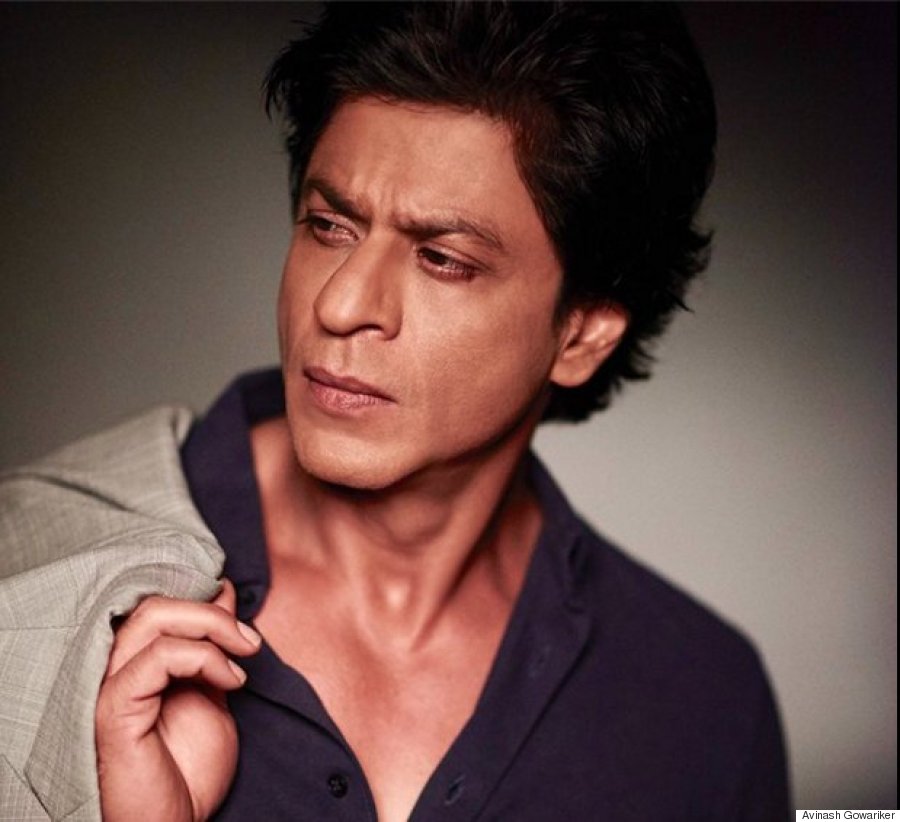 Yes, I remember you had reached out to news outlets when a picture of your daughter on a beach in a bikini went viral recently. You wanted that removed.

Right. She was in a bikini, she was on a beach, and she was with her little brother. You went ahead and wrote a headline, "SRK's daughter flaunts her body." Is it a little cheap? Maybe I felt it was. I reached out nicely and said, dude, your website is not going to run on my daughter's bikini body, can you please take it out? People saw where I was coming from. My daughter was a little awkward about it. She's 16, yaar. And the headlines some sites use are… wow. We're very liberal people and even had a laugh about it. But it's still awkward.
You think the media needs to exercise more restraint, especially in such scenarios?

That is there. But when my daughter's pictures were splashed everywhere online and when I jumped to get it contained, I wasn't protecting her from the media — I was protecting her from me. It's my stardom that was the reason that picture made it to the news — it wouldn't have if she wasn't SRK's daughter. There could be someone running naked and that wouldn't be news.
There was a time when you would show up at the doorstep of a journalist, abuse reporters, and generally call out the press for the way they presented you. With age, have you now mellowed down in your temperament?

You know, I dangle between two extremes. Either I am calm or I am a storm. I am not in-between. And there are moments when my calmness suddenly bursts into a bout of madness and it's very dark. I've been everywhere – I have yelled and abused and beaten up people, and I have also gotten beaten up. It's not a good place to be in [laughs]. I'm not apologetic about it and I am not ashamed of it. Sometimes when I am giving life advice to my son and telling him, "You gotta be patient son, you gotta show restraint." And then we both burst out laughing when he says, "Really, Papa? You're saying this?" And I'm like, "Ok, bro, do what you have to."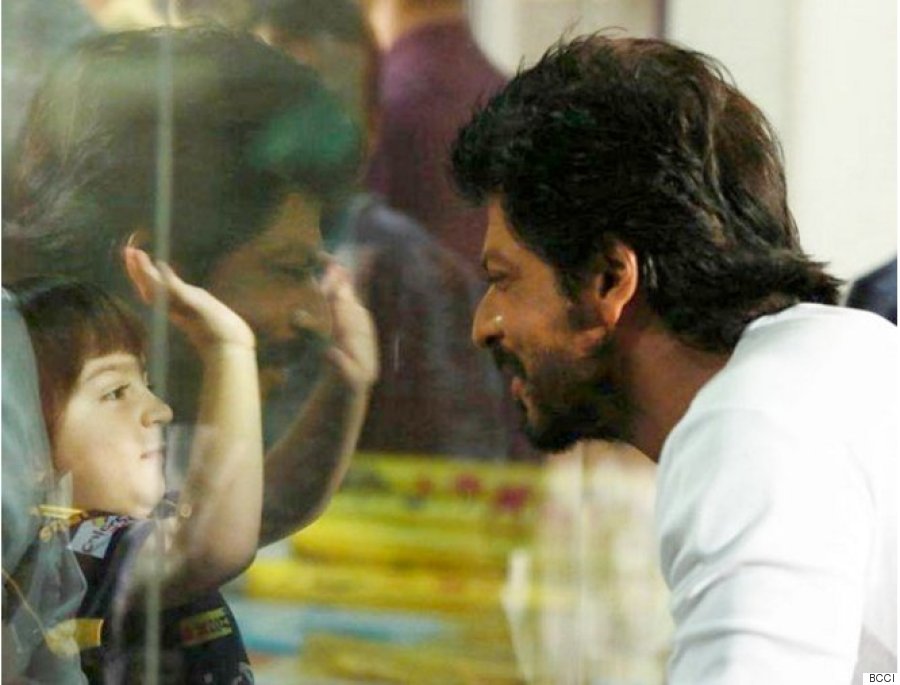 In an interview with GQ in February 2010, you said, "There are days I feel lonely on the inside. I guess that's the way I am. I've never gotten into relationships because I'm scared to. I have a shield. I've lost my parents, so now I don't like to lose relationships. I have to admit, at the age of 44, that I am socially and emotionally inept."
Has the arrival of AbRam help filled that void, or helped change that aspect about you?
Till the time your kids are 7 years old, they bring about a sea-change in your life. Then the idiots grow up and leave and do their thing. Now, I can't be having a kid every 7 years although that does sound like a solution to my loneliness. (laughs). I love children as whatever they do — misbehave, shout, swear — you only feel love for them. That's also what great acting does and I believe my final destination as an actor is to have child-like honesty. There's so much of beauty in their untainted, uncorrupt words. Even when they say 'Fuck off', it is not destroyed by the worldly meaning of the term. A lot of time goes to my children. I spend a lot of time with AbRam, his three friends and also friends of Aryan and Suhana. I am glad I don't make them awkward.
But in today's times, a star needs to be accessible at all times. On Twitter, Facebook, Instagram, Snapchat. Do you feel the pressure to be on top of these modern forms of social currencies?

I can't, yaar. I don't know how to give a 'shout out' on Twitter or tell people things like, 'You're killing it.' I'm bad and weird about it. I can't return calls or text messages. If I like something, I'll just tell you when I see you, ki acchha laga (I liked it). I am quite socially inept although I am good to talk with. Sometimes, I just want to be in a place where nothing is expected out of me. As a star, it's almost impossible other than when you're in the company of a 3-year-old. All adult relationships are full of expectations. AbRam has filled in much more than I could have imagined.
Are you scared to live up to those expectations or is it that you don't have any will left to invest in people anymore?

Relationships kill love. Relationships have rules. And rules are misinterpreted. Relationships have conditions and boundaries and, yes, expectations. You can't go by what others expect. They may do a lot to you because they can or they have the time. But the best kinds of relationships are the ones without conditions. Not the ones that go, "We have to meet ya, like once a week." No man, we don't have to. We'll still be good. Love should be free of conditions or it isn't love at all.
One of my closest friends lives in LA and we don't meet for years sometimes, forget birthdays and anniversary greetings, but when we do meet, we start off from where we left. Even if he doesn't have my back during my times of trouble, he's still my friend. "But where were you during my times of trouble?" they say. "I was dealing with my own." "But yours was work, mine was emotional." "Fuck you."
I have a lot of love for a lot of people but I can't say if I have a relationship with them.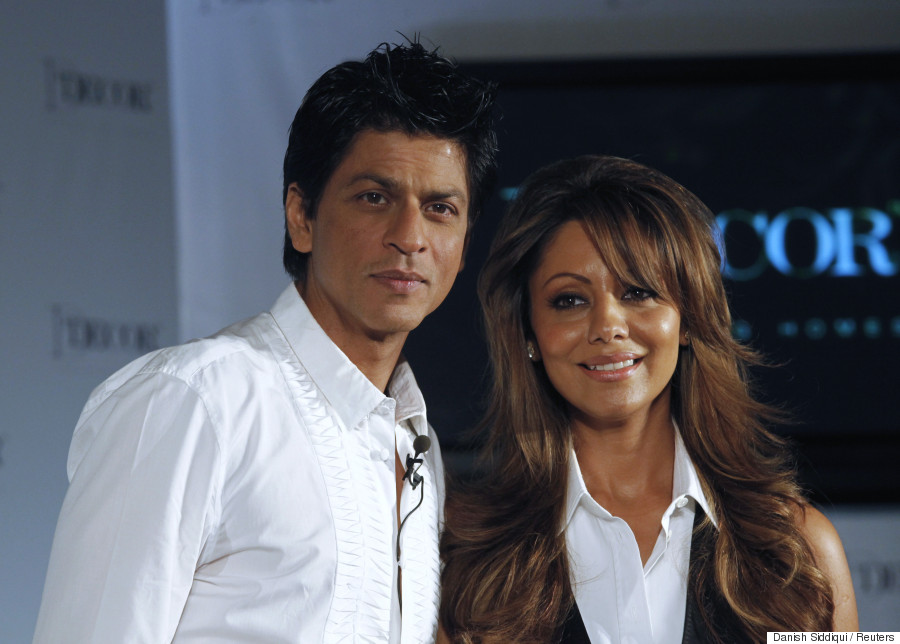 Film industries over the world are a hotbed of lost love, broken relationships, infidelities. How has your marriage survived?

I'll tell you something — it's a little difficult to be a movie star's spouse. Our lives don't belong to our partners. They belong to the world. We're called public figures because we not longer have a private life the way it's meant to.
To be able to take that for so many years and be able to carve an identity and space for yourself is extremely difficult. And Gauri has been great in making a space for herself in which she is not identified as Shah Rukh Khan's wife. By not doubting, talking, or doing anything, she's made her own identity and that takes a very large heart.
To be a partner to a movie star means that you don't own them. And to continue to be like that without feeling belittled, smaller or unimportant takes a lot.
Gauri and my relationship has been geared entirely towards raising our children. That's what eventually happens. Parents become parents at one point and that changes it all. We have a badass 18-year-old, a dainty 16-year-old and then there's the 3-year-old little gangster. Our conversations, our life together is through the prism of our children. They've been our focal point and have literally kept our world intact.
Would you have wanted it any other way?

I don't know. It's different. I can't ruin their weekends because of my bad Fridays. I can't make them jump with joy on a jubilant Monday that I have. I can't take them to the bathroom and cry because my IPL team lost by one run in the finals. Why should I take them on this rollercoaster ride? They didn't sign up for this. I can't make them realise that Fan meant a lot to me and that it didn't do well. I know they sense it. But I still don't allow my day to walk into my house. It's a difficult balance to keep. And that's what makes me lonely. I can't even take them — my own family — through my emotional upheavals. It's not for lack of love, it's for the lack of choice. They didn't get to choose this, they had to.
As an actor, I am the seller of dreams. But that doesn't mean that if the dreams don't sell, I bring the nightmares home to my wife and children. No, I will never do that. It happens in a lot of Bollywood families. But not mine.
There's a lot of talk about Suhana wanting to become an actress. Will you launch her when the time comes?

I'm a selfish actor, I only launch myself [laughs]. My kids, whatever they want to be, need to educate themselves. There is a minimum education requirement in this house. If you can't hold a conversation with me, then you're not just cut out for it. I am a believer of education — 80 percent of what I am is because of education. My kids have been brought up very well, they're very dignified. Suhana wants to be an actress and she says that she doesn't want to learn it from me. Which is an amazing thought to have. Because it means that she wants to do the same thing as me but with an independent and a unique voice.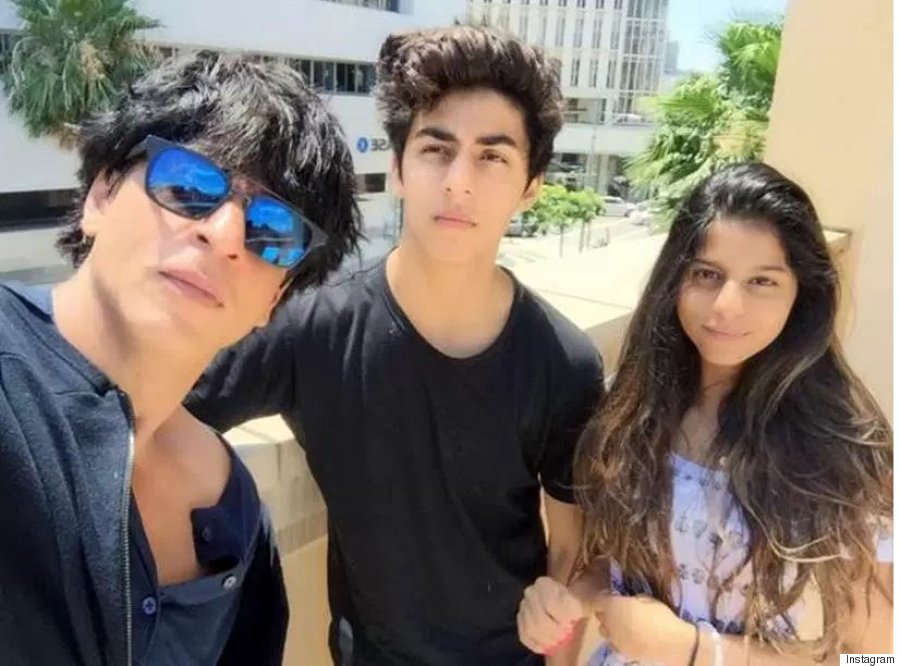 What is your relationship with her like?

I have written a book for her. That's the only way I felt I could approach her. I am awkward, even with my own family. I will never encroach on a girl's space so she has her privacy. Some of it is strange, some of it is technical, and some of it are just dad-to-daughter conversations. She finished reading it recently and told me to write some more. I am on it.
Have you seen her act?

Yes, she participates in a lot of theatre and she's quite good as an actress. In fact, she's just done a play and I may get a call any minute about how she fared. I feel you must not be an actor because your father or mother wants you to be — you should be an actor because you cannot be anything else.
Bollywood's top stars have maintained a stoic silence on the gender-based wage disparity in the industry.

I feel every woman in this industry works three times harder than the men and gets ten times lesser the money. But not in my company. I can't enforce that in the films that I act in and don't produce — but the ones that I produce, there's equal pay. Plus, their name appears before mine in the title credits.
I don't talk about the change. I am the change. In my films, the girl's name always comes before mine. On my film's set, the girl is always in a higher position than men – nobody can call them "tu"; it's always "aap."
You're often called the greatest movie star in the world and as befits that claim, you live a charmed life. A house with more rooms than you've probably utilised, fancy cars, luxurious travel – it's a life of such dizzying opulence that most people will never know what it's like to be you. Doesn't that also come with a sense of depressing world-weariness since there isn't anything left that you want but can't get…
I am aware of the fact that I enjoy a unique space in people's hearts and I get more love from them than I probably deserve.
But that's what wakes me up every morning — to ensure that kind of love stays. The first five years of my career, I was clueless. These current five years I want to ensure I do things that make me feel loved and prove to myself that I am deserving of everything that you spoke about. I want to sit with all these people — 3 billion — who supposedly love me and make each of them feel special and worthy of the time and affection they gave me. I want to ask them, "Did I entertain you enough for all the love you've given me? Are we good?" I want to know and feel better by hearing that I probably did. That anxiety keeps me alive, keeps me awake, puts me to bed and wakes me up to go to a movie set.
And that's anything but world-weariness. It's excitement.
Is there ever a real moment, a moment of absolute privacy, which involves SRK sans the stardom?

Oh, yes. When I am not acting, I am a chilled out guy hanging in an old pair of jeans and messy hair. Many tell me, "What are you doing looking like this?" and I go like, please. This is a moment when I am not acting and I want to savour this moment of being me.
Source: The Huffington Post